Discover more from EthHub
Want to stay updated with Ethereum? Sign up to a receive the EthHub Weekly Newsletter and you'll never miss a thing!
Over 12,000 subscribers
EthHub Weekly #100
ConsenSys continues to restructure, Dharma introduces the dToken, PoolTogether raises $1mil and much more!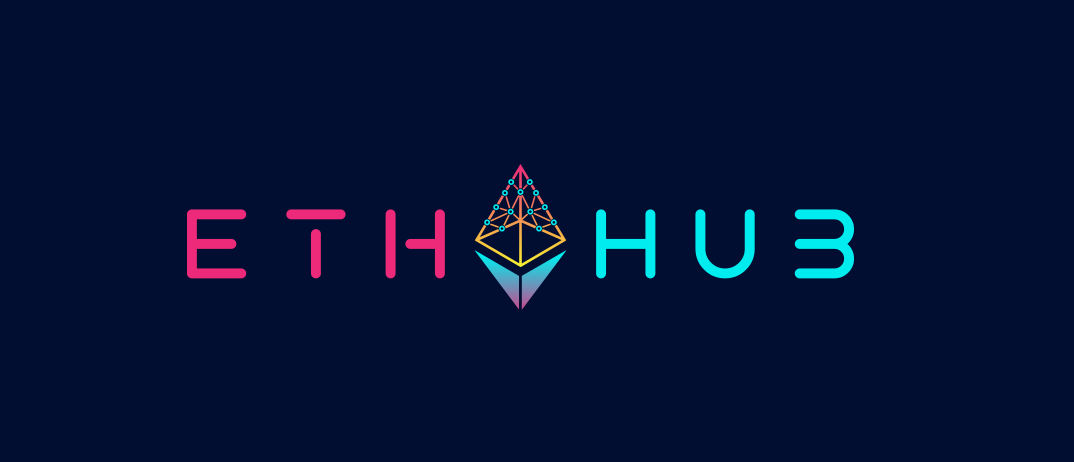 ---
Curated by Anthony Sassano (@sassal0x) and Eric Conner (@econoar)
---
🎉
 100th Newsletter Issue
Well, here it is - the 100th issue of this little newsletter that I started curating almost 2 years ago (as Block by Block) and continued creating as part of EthHub. To all of our subscribers - thank you so much for sticking with us and reading each week. Here's to another 100 issues!
The Eth2 researchers did their 3rd AMA on Reddit this week - check it out here. Eric and I will be covering it in more detail on our weekly recap podcast.
I'll be at ETHDenver from Thursday night until Sunday night - if you're around do come up and say hi - I'll look exactly like my Twitter profile picture so I'll be easy to spot! Unfortunately, Eric won't be able to make it but he'll be there in spirit!
Have a great week everyone!
- Anthony
---
News of the Week
SEC Commissioner Hester Peirce wants to give legitimate crypto projects a shot at success without running afoul of U.S. securities laws.
The two-year official at the Securities and Exchange Commission – nicknamed "CryptoMom" by the blockchain community – has formally proposed a safe harbor for token projects. It would give them some breathing room to develop their networks and communities before having to worry about the regulatory regime.
Under Peirce's proposal, unveiled during a speech at the International Blockchain Congress in Chicago Thursday, crypto startups would have a three-year grace period from their first token sale to achieve a level of decentralization sufficient to pass through the agency's securities evaluations, including the Howey Test, the famous U.S. Supreme Court assessment. 
To date, the SEC has brought enforcement actions against a number of companies that created and sold tokens, including Telegram and Kik, two major messaging platforms.
"The analysis of whether a token is offered or sold as a security is not static and does not strictly inhere to the digital asset," according to notes detailing the proposal. 
In other words, some tokens may appear to have the qualities of a security at launch but mature to the point where it no longer appears to be one. 
Ethereum venture studio ConsenSys is shifting focus – and downsizing as a result.
The Brooklyn, N.Y., company announced at an all-staff meeting Tuesday its latest restructuring would shrink the firm's headcount by approximately 14 percent. When asked, ConsenSys did not explain how many individuals the cuts would affect or state its current headcount.
"In the coming months, ConsenSys will finalize the transition from its venture production model and spin out a number of its internally funded projects into the ConsenSys Investments portfolio," the company said in a statement.
The move is meant to prioritize the development of some of the ethereum ecosystem's leading infrastructure platforms. ConsenSys said Tuesday it will "operate a software business composed of several of its products optimized for a modular stack," including Infura, PegaSys, MetaMask, Codefi and others. 
According to a source with knowledge of the matter, Tuesday's move will let ConsenSys focus on those four core products. "It really is quite sensible to separate the two business strategies," the source said.
The company will continue its venture work under the ConsenSys Investments banner, with a focus on "early-stage equity, liquid digital assets, and strategic opportunities where applicable," ConsenSys said in a statement.
---
Project Updates
Eth2 AMA, phase 0 updates, testnet news, some info about phase 1 and 2 and more in this latest update from Ben.
The Ethereum Trust Alliance is a global coalition of professional security organizations brought together to increase trust in the Ethereum ecosystem.
The investment round was led by IDEO CoLab Ventures with participation from ConsenSys Labs and DTC Capital.
dTokens are wrapper tokens, similar to rDAI, around Compound cTokens. In short, dTokens are interest-bearing stablecoins denominated in Dai or USD Coin that are backed by their respective cTokens on Compound. 10% of the interest earned by dTokens will be given to Dharma.
Volcanize has completed their EIP-1559 implementation in GETH and are updating the EIP to match the latest spec. Next steps are more scrutiny by core devs and feedback from the community.
Lots of updates from the MetaMask team including an overview of their recent 'MetaTransaction Challenge', recapping the recent drama around the MetaMask app being removed from the Google Play Store, what's new in MetaMask development and more.
Key improvements include judge market vs CEXes with live charting, judge market depth to optimally split up orders and see potential arbitrages when markets get crossed.
The Aztec team created 10,000 zkDAI by depositing $10k DAI into their contract ("skin in the game").
This update covers progress of the GUI client for node operators in the Rocket Pool network and gives a glimpse into the roadmap for 2020.
Gnosis gives a spotlight overview of Gelato Finance which allows users to create a personal bot that automatically interacts with different applications on Ethereum.
Justin Leroux from GridPlus updates us on all the progress that the team has made over the last month including Lattice1 updates, a new web wallet, updates to GridPlus Energy and more.
Ramp, a Warsaw-based start-up, is the first crypto company to receive an Open Banking License in Europe after being authorised by The Polish Financial Supervision Authority ("KNF"). This will allow for faster, simpler and cheaper processing of crypto transactions in the entire European Union.
New audited smart contract suite, brand-new UI/UX and much more in this update from Idle Finance.
DeFi Saver added 0x to the list of decentralized exchanges that they support.
Zap Out lets you seamlessly go in and out of liquidity pools on Uniswap with DeFiZap.
Social Trading launched, partnership with DEXTF formed, the ETH 26 EMA Yield Set went live and more from the Set team.
---
Community Member Spotlight
This week we're highlighting the great work of Chaz Schmidt!
Chaz is a long-time Ethereum community member currently working as part of the Concourse Open team. You may have seen some of his work in the form of the great blog posts that get published on DeFi Pulse, ETH Gas Station, and DEX.AG.
Chaz has also been a core contributor of EthHub since the very beginning (even before we went live)!
Don't forget to follow him on Twitter for some dank memes.
Keep up the great work Chaz!
---
Interesting Tweets
---
Ecosystem Bits
Blog Posts
Podcasts
Misc
---
Meme of the Week
---
Looking for Work?
---
Support EthHub:
---
Protect Your Crypto
Buy a hardware wallet:
---