EthHub Weekly #102
ProgPoW drama, MakerDAO upgrades governance system, Synthetix adds Ether collateral and much more!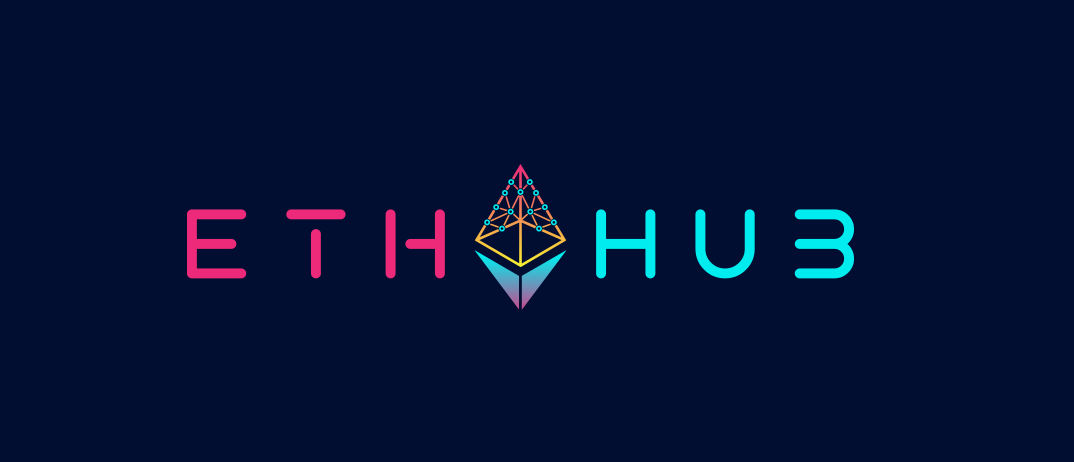 ---
Curated by Anthony Sassano (@sassal0x) and Eric Conner (@econoar)
---
🗽 Ethereal New York 2020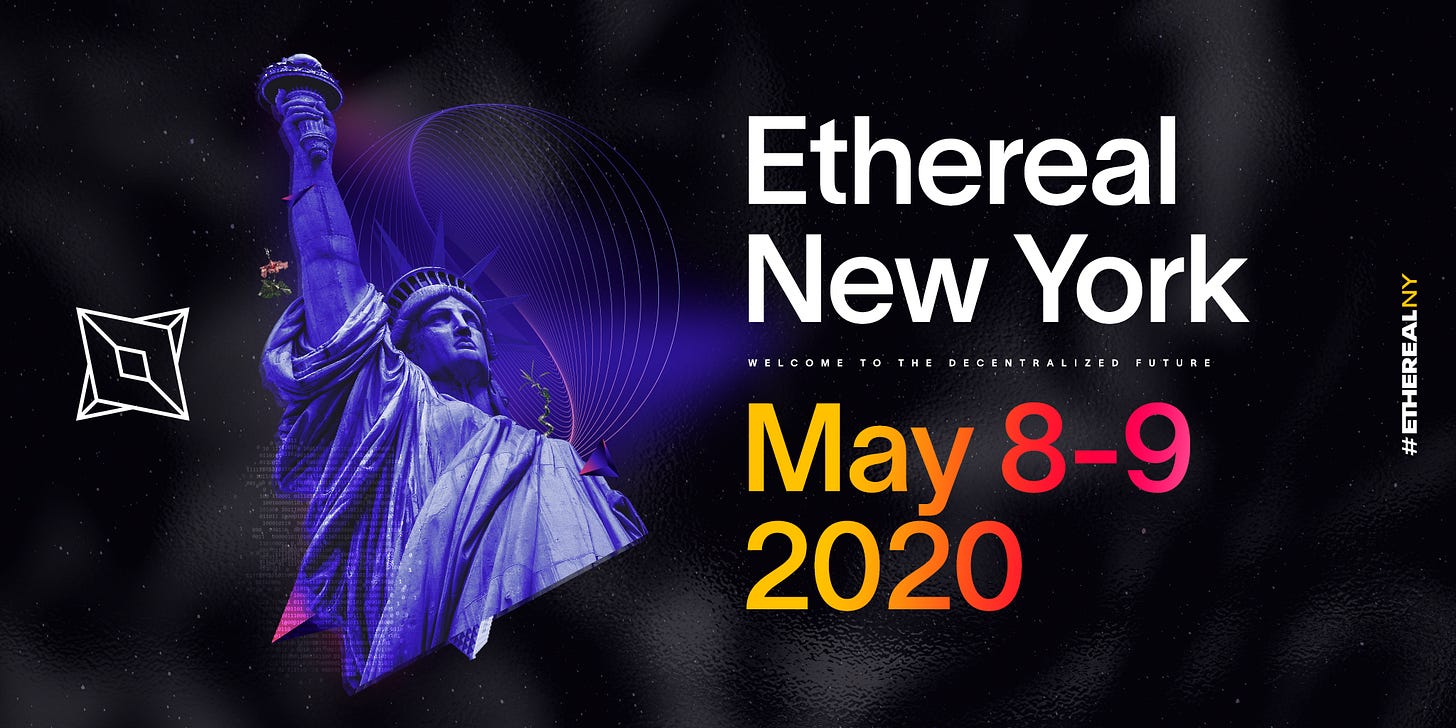 I wanted to give a quick shout out to Ethereal New York which is happening on May 8-9, 2020. Eric and I will both be attending and we'll be recording a live Into the Ether podcast and we might even be discussing how ETH is money (stay tuned!).
Anyway, if you're interested in attending, you can currently get early bird tickets for up to $150 off by paying in DAI via Unlock - simply head here for details. We hope to see you there!
Note: this is not a sponsored post.
---
🤡
 ProgPow… again
Well, what can I say? ProgPoW discussions have heated up again on Twitter and Reddit and they show no signs of slowing down. Unfortunately, this issue has now reached critical mass and it has become extremely polarizing within the Ethereum community. I won't rehash the arguments here, but Eric and I will be covering it on this weeks weekly recap podcast. Make sure you're subscribed so that you don't miss it.
I also joined The Block Experience podcast this week to discuss Set Protocol, eth2, education in Ethereum, and much more. Head here to give it a listen!
Have a great week everyone!
- Anthony
---
News of the Week
The U.S. Securities and Exchange Commission (SEC) has settled securities law violation charges with Enigma MPC, a blockchain startup that raised $45 million in a 2017 token sale.
The regulator announced Wednesday that under the settlement Enigma will refund "harmed investors" using a claims process, register its tokens as securities with the SEC, file reports to the agency and pay a further $500,000 as a penalty. Enigma sold ENG tokens in 2017, which the SEC said are securities. Engima did not qualify for an exemption from securities registration requirements, according to the SEC.
According to a blog post, Engima will set up the claims process in the near future. The Enigma mainnet, which launched on Feb. 13, now has more than 20 validators, the company claimed, with the mainnet based on Cosmos SDK and secured by a new coin dubbed "secret," according to its blog post.
Enigma is now looking for "legally compliant avenues" for swapping its ENG token, which is built on ethereum, for its new SCRT token.
Binance is neither licensed to operate, nor is it regulated in Malta, the country's chief financial watchdog has said.
The Malta Financial Services Authority (MFSA) issued a statement Friday denying it has ever regulated Binance or that the exchange has ever had leave to operate in the island nation's fledgling cryptocurrency industry.
Citing reports in the media that referred to Binance as a "Malta-based cryptocurrency company," the regulator announced Binance "is not authorized by the MFSA to operate in the cryptocurrency sphere and is therefore not subject to regulatory oversight by the MFSA."
Binance announced it was opening an office in Malta in March 2018 soon after it clashed with regulators in Japan, where the exchange had previously attempted to establish a presence. At the time, Maltese Prime Minister Joseph Muscat welcomed the exchange to the country, tweeting the island nation would support Binance's goal to become the "global trailblazers in the regulation of blockchain-based businesses."
---
Project Updates
A great update from Ben this week covering phase 0, BLS news, testnets, phase 1 & 2 and much more. Ben also revealed his new project, The Ethereum 2.0 Annotated Specification, which attempts to annotate the Ethereum 2.0 specs (phase 0, phase 1, phase 2 and SSZ).
The latest Maker governance proposal introduced the long awaited 24 hour governance delay which means that any changes to the Maker system through governance won't kick in for 24 hours.
Will Villanueva posted an implementation, vision and background plan for eth2 phase 2 moving forward. This represents the work Quilt will likely focus on over the next year.
DNS discovery, sqrt tx propagation bandwidth, new .js engine and bug fixes in this new release.
In the Achernar release, the Synthetix team is introducing Ether as an alternative form of collateral in Synthetix. It's a major piece of new functionality, so they're launching with a three month trial period to observe demand and user engagement.
Mobile wallet app Frontier has integrated DeFiZap which means you can now access the dapp on the go.
You can now acquire up to $10,000 of LAND paying 12-40% interest over 6 months by collateralizing the loan with an NFT.
Following last weeks iOS app release, the Dharma team have released their app to the Google Play store which means Android users can now earn 6.6% APR on their dollars in minutes.
Uniflash is a decentralized flash loan protocol that gives all fees to users. It currently supports Ether and ERC20 tokens.
Coinbase has become the first pure-play crypto company to be approved as a Visa principal member. Visa membership will enable the company to further improve the customer experience, making it easier to spend cryptocurrency in everyday situations.
RealT is using Compound Finance to bolster the rental payments to RealToken holders. Rental income to token-holders will be increased by 1/2 of the Compound Dai Supply-Rate.
DeFi Audits is a new initiative to bring increased transparency to various DeFi protocols on Ethereum.
---
Community Member Spotlight
This week we're highlighting the great work of Alex Van de Sande!
Alex is a long-time Ethereum community member best known for his work on the now discontinued Mist Ethereum browser. Alex now spends his time working on UniLogin which is a decentralized, non-custodial login for dapps. Recently, he also started work on Much Clearer Dai which is an open source initiative to make MakerDAO's code more readable.
Keep up the great work Alex!
---
Interesting Tweets
---
Ecosystem Bits
Blog Posts
Podcasts
Videos
Misc
---
Meme of the Week
---
Looking for Work?
---
Support EthHub:
---
Protect Your Crypto
Buy a hardware wallet:
---