Discover more from EthHub
Want to stay updated with Ethereum? Sign up to a receive the EthHub Weekly Newsletter and you'll never miss a thing!
Over 12,000 subscribers
EthHub Weekly #59
Bitfinex/Tether drama, Uniswap forms a company, Eth2.0 updates, Ambo mobile wallet launched and much more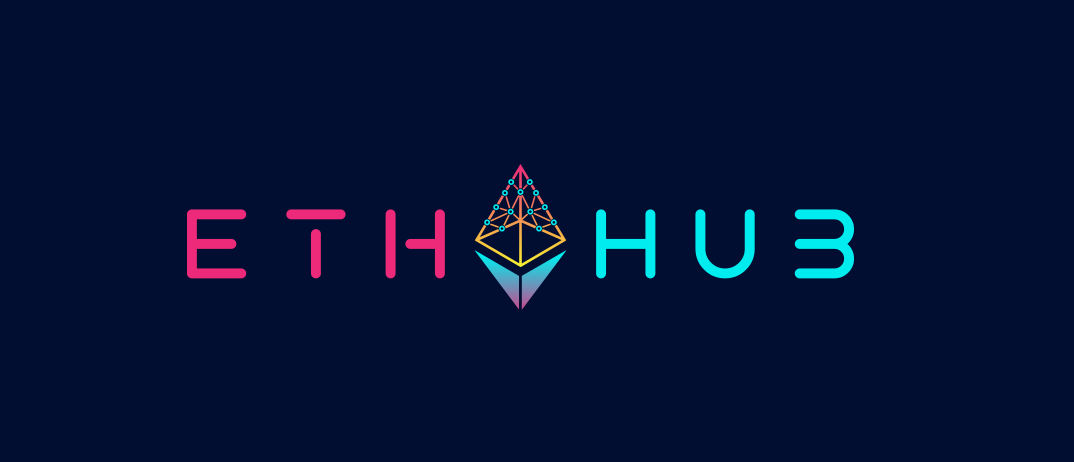 ---
Curated by Anthony Sassano (@sassal0x) and Eric Conner (@econoar)
---
🎣
 Vacation Time
Eric and I have had a rather tame week as we both took some time off for the extended Easter break. This means that we've had to delay the publishing of our blog post about the EthHub Forum and Call (originally intended for last week). But don't fear - we'll be publishing it this week and the first call is still scheduled for May 7th at 14:00 UTC.
One more thing - Chaz Schmidt, core contributor to EthHub and good friend of Eric and I, officially announced his featured blog series called 'EGS Garage with Chaz' on ETHGasStation. The new blog series follows Chaz's journey of taking everyday Ethereum DApp ideas and turning them into something useful. Be sure to check out the first post.
Have a great week everyone!
- Anthony
---
News of the Week
South Korean electronics giant Samsung is developing its own blockchain network and eyeing the issuance of its own token further down the road.
An exclusive CoinDesk Korea report on Tuesday, citing a person "familiar with Samsung's internal situation," said that the company's blockchain task force – part of its wireless division – is building a blockchain mainnet based on ethereum. The work, however, is still at the "internal experimental" stage.
If the company develops a public blockchain in the future, then Samsung Coin could be traded publicly on cryptocurrency exchanges just like bitcoin (BTC) and ether (ETH). Samsung could also bring blockchain technology to its payments app Samsung Pay, but the move is not yet decided, according to the source.
Online stock brokerage E*Trade Financial is said to be preparing to launch cryptocurrency trading services.
A Bloomberg report on Saturday, citing "a person familiar with the matter," said that E*Trade will initially add trading support for bitcoin (BTC) and ether (ETH), with more cryptocurrencies to be added in the future.
The U.S. brokerage is also reportedly finalizing a third party to hold the cryptocurrencies, Nathaniel Popper, tech reporter at The New York Times, tweeted Friday.
The New York Attorney General's office has alleged that crypto exchange Bitfinex lost $850 million and subsequently used funds from affiliated stablecoin operator Tether to secretly cover the shortfall.
According to a press release issued Thursday, NYAG Letitia James announced that she had obtained a court order against iFinex Inc., which operates both Bitfinex and Tether, ordering them to cease violating New York law and defrauding New York residents.
According to the statement, Bitfinex sent $850 million of customer and corporate funds to Crypto Capital Corp., a payment processor that is said to be holding funds from other exchanges as well, such as QuadrigaCX. Funds from Tether's reserve were used to make up the shortfall, but neither the loss nor Tether's fund movements were disclosed to customers.
Nike has filed to trademark the word "cryptokicks." The application describes a digital currency that would be used by members of an online Nike community similar to existing cryptocurrencies. Nike also describes an electronic marketplace for their products (e.g., footwear and clothing) and an exclusive cryptokicks member website. Trademark attorney Josh Gerben of Washington, D.C.'s Gerben Law Firm first noted this application on Twitter and said it shows Nike is serious about establishing cryptokicks as a line of business.
---
Project Updates
Alexey announced a working group for EIP-1559 this week that will be led by Rick Dudley. You'll remember that EIP-1559 is a proposed fee market change put forward by Eric Conner; you can read his overview here.
Uniswap founder Hayden Adams announced this week that he has formed a company dedicated to building open finance products on Ethereum with a seed investment from Paradigm - its sole investor.
ConsenSys Diligence also completed their audit of Uniswaps smart contracts this week.
The Raiden Trust was established on the 25th of April 2019 with the goal of independently managing 16 million Raiden Network Tokens (RDN) in order to fund and support projects and parties that help build and grow the Raiden Network ecosystem.
Ambo, the cryptocurrency mobile wallet built with the MyCrypto team, has officially launched on the app store this week and allows you to deposit fiat currency, Ethereum and ERC20 tokens and lets you buy and sell over 170 different tokens among other features.
Whiteblock and a few other collaborators have made Hobbits, a lightweight wire protocol that will allow ETH 2.0 clients to talk to each other without having to wait on Libp2p completion.
Lots of news from the Nimbus team in this update including: 2019 goals, a recap of Status' Chaos Unicorn day, development updates and much more.
Lots of bug fixes, efficiency improvements, merged code, pull requests and more in PryLabs biweekly Eth2.0 dev update.
New version of MCD is now live on the Kovan testnet which includes updates to the MCD CDP Portal, Dai.js and new contract addresses.
Various aspects of the Eth2.0 spec were simplified in what Danny Ryan is calling a "spring cleaning".
Various updates from Moloch this week including details of new and upcoming Moloch Grant Proposals (MGPs) and announcements of new members.
AirSwap have released version 2.0 of their 'Instant' product into public beta - making it easier to swap between cryptocurrencies using a beautiful interface.
Strategy Enabled Tokens are now live on TokenSets, the first platform that enables traders and crypto enthusiasts to automate asset management strategies by simply acquiring a token.
In this blog post, Taiyang Zhang from Ren explains how the companies project fits into the emerging Ethereum DeFi stack.
You can now interact with Uniswap pools by using InstaDApp.
---
Community Member Spotlight
This week we're highlighting the work of Matt Cutler and his team at Blocknative.
Blocknative makes dapps easy-to-use through embeddable javascript widgets that translate complex blockchain tech into simply, human terms for end-users.
Blocknative also allows developers to integrate a "Readiness Assessment" right into their dapp for easy user onboarding. You can check out a demo video here and also check out demos for both MakerDAO and Uniswap.
Don't forget to sign up to Blocknative here!
---
On-Chain Activity
---
Interesting Tweets
---
Ecosystem Bits
Blog Posts
Podcasts
Misc
---
Looking for Work?
---
Donations: 0xA19FCDaD77C1F0fd184689aca88BabCF68010347
---